Profile of Takuma Koga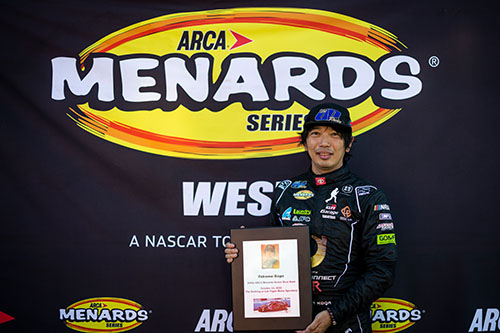 TEAM: PP1M / CKB TOYOTA RACING
CAR#: 77
MAKE: TOYOTA CAMRY
HOMETOWN: NAGOYA JAPAN
BIRTH DATE: 3.16.77
HEIGHT: 5' 6"  WEIGHT: 160lbs
HOBBIES: WORK OUT, LISTEN TO ROCK, SHOPPING ALONG BROADWAY
FAVORITE MUSIC : EIKICHI YAZAWA,CAROL
RACING EXPERIENCE
2019:
NASCAR K&N PRO SERIES (PP1M / CKB TOYOTA RACING) POINT STANDINGS 8th
2018:
NASCAR K&N PRO SERIES (JKR CHEVROLET RACING) POINT STANDINGS 9th
*First Asian born driver to finish in the top 10
2017:
NASCAR K&N PRO SERIES (JKR CHEVROLET RACING) POINT STANDINGS 13th
*Scored a career best fifth place finish at Orange Show Speedway
2016:
NASCAR K&N PRO SERIES
2009~:
H-EXCEED RACING NASCAR Development Driver
2008:
WEST COAST PRO TRUCKS Series ranking 3rd
2007:
WEST COAST PRO TRUCKS Series ranking 3rd
2006:
Grand National Division
2005:
NASCAR Grand National Division All star race participation
2004:
Grand National Division
2003:
Winston west
2002~2005:
MIDGLEY RACING
2002:
NASCAR WinstonWest Series
Participation from MidgreyRacing
2001:
NASCAR Reybestos NorthWest Series
Participation in 6races.
I raced among the top cars in Evergreen speedway.
2000:
NASCAR Weekend Series
Paticipation in 10 races from June.
Although I raced wuthout practice, I got a PolePosition at sixth race.
As the result I got a HardchagerAward because I excited the mostandiences.
1999:
FormulaTOYOTA drivers scholarship audition which was organized byRacing Magazine "Racing ON"chose me from among 40 candidats.
As a result I could participate in Formula TOYOTA races in FujiSpeedway and SuzukaCircuit.
1998~1992:
Participation in Go kart Races.
I won many first prizes in local races.
I was ranking 5th in National Series FA class in 1996.
I temporary stopped racing becouse of financial difficultiesin 1997.
I got three PolePositions of Sifter Go-Kart among three participations.
In 1997 I entered Tecseed which is out sourcing company that isnow my personal sponser,too.
I worked for Denso to design and evalute radiator and oilcooler.
From 1998 to April 1997 I worked for Aisin seiki to evalute LandCruser and Corster and to be a testdriver,too.